Autoimmune Neurology Diagnostics
Autoimmunity as the root cause for neurological disorders is an exciting new paradigm. Neuroimmunology in general & Autoimmune Neurology in particular is a rapidly emerging 21st century subspecialty of Neurology. Driven by the discovery of novel neuronal antibodies, this field has evolved drastically in the last decade.
We enhance the accessibility and applicability of advanced autoimmune neurology testing, offering the most comprehensive test menu in India that covers a wide range of autoimmune neurological disorders.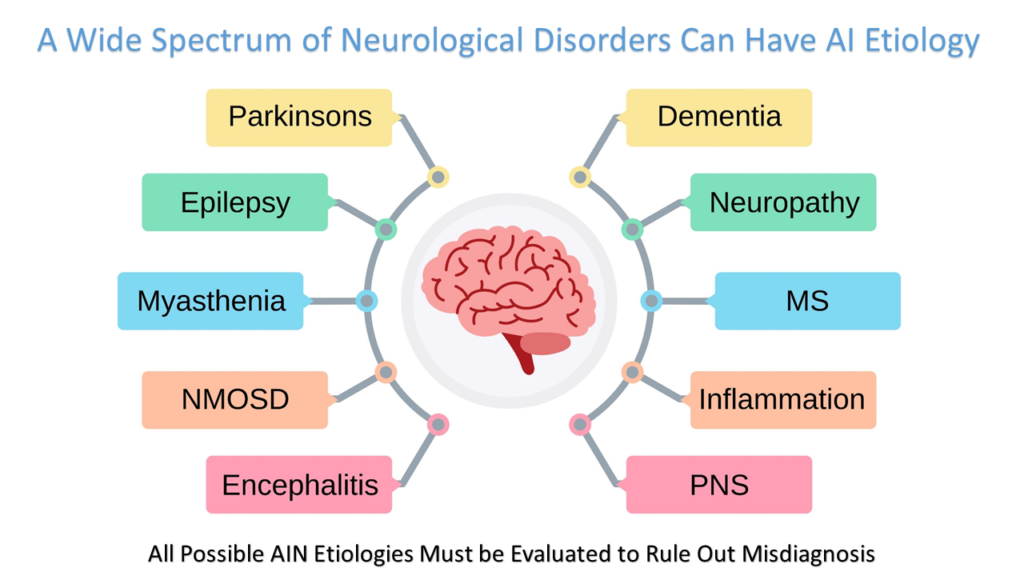 Autoimmune Neurological Disorders Are On Rise
With advanced and more frequent testing, we are gradually recognizing autoimmunity as the cause of neurological conditions, which were otherwise misdiagnosed as psychiatric disorders, degenerative diseases such as dementia, or infections.
Management of these diseases is complex. An individual autoantibody can manifest with diverse clinical characteristics, and a specific neurological condition can frequently result from multiple distinct autoantibodies. Specific clinical presentations or imaging are often a rarity. However, in most cases, early detection and prompt therapy can improve patient outcomes.
Autoimmune neurological disorders require expert evaluation to provide an accurate diagnosis. It's not routine.
This is what we are good at – simplify autoimmune neurology diagnosis!
We are the pioneers in syndromic approach to autoimmune neurology testing in India. We create comprehensive panels tailored for specific disease phenotypes in Indian patients. We customize them for individual patient needs. We are shifting the paradigm from non-specific single antibody testing to clinically relevant & cost-effective syndrome-specific panels.
Comprehensive Autoimmune Neurology Diagnostics Portfolio
With the most extensive portfolio of test menu which gets frequently updated, we are an exclusive autoimmune neurology service provider deeply invested into this exciting field.
Syndromic Panels
Advanced Tests
Regular Tests
Syndromic Panels
Autoimmune Atypical Parkinsonism
Autoimmune Dementia
Autoimmune Epilepsy
Myasthenia Gravis
Autoimmune Neuropathy
CNS Inflammation
Advanced Tests
Regular Tests
The complexity & challenges posed by this fascinating field are beyond the means of routine labs.  This calls for an expert team that combines the knowledge & techniques used by neuroscientists & immunologists.
Neuro-Immunology Lab at Amrita Institute of Medical Sciences, Cochin is India's 1st & only research facility dedicated exclusively to Neuro-Immunology. It is led by Dr. Sudheeran Kannoth – a Mayo Clinic-trained clinical autoimmune neurologist. The lab operations include a team of veteran immuno-pathologists, neuroscientists & immunologists with over 60 years of collective experience in research & diagnostic operations.
This 1st of its kind lab in India, offers clinically validated novel auto-antibody profiles that inform neurological decision-making.
Eases Diagnostic Odyssey of Patients
ZeiniX is officially associated with the Neuro-Immunology Lab at Amrita Institute of Life Sciences, Cochin for testing the samples.
Comprehensive diagnostic panels
Logistics support of global standards
From the experts in Auto-Immune Neurology
Patient-friendly
services